Join Delphic HSE at the virtual edition of Cosmetics Business Live which runs from 10-14 May 2021 and will provide an online platform for brand owners, manufacturers, suppliers and retailers to come together to discover the latest trends, share knowledge and connect to solution providers.

The on-demand and live content will provide the ultimate overview of the landscape of the industry in 2021 and beyond, including key updates, insights and concepts.
The dynamic conference agenda has been developed by the Cosmetics Business editorial team, who have used their industry expertise and inside knowledge to create a line-up of relevant, insightful and forward-looking topics and trends.
Dr. James Wakefield (Delphic HSE Director, APAC) will be speaking on the topic "Regulatory Shifts in China: Opportunities and Challenges" on Wednesday 12 May 2021 at 11:55 – 12:25.
For more information on Cosmetics Business Live and to register you place, please visit the website here.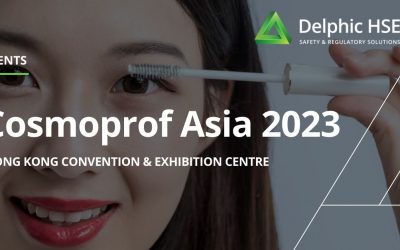 The 4-day event offers a platform to discover the latest beauty products and trends, with the opportunity to meet various industry professionals. Delphic HSE APAC team members will be joining the events and are very keen to explore the latest trends and meet with you!...