Following our BSI audit in September 2018, our ISO 9001:2015 certification scope has now been expanded to cover the UK and Hong Kong offices.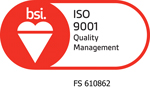 Speak to a Delphic HSE Expert today
 I first met Ray Boughton, in 2002 when he left Leicester University. He was clearly a talented biologist and when, seven years later, I had set up Delphic HSE as a one-man-band and had grown the business to a point where I was able to employ someone to join me, the...